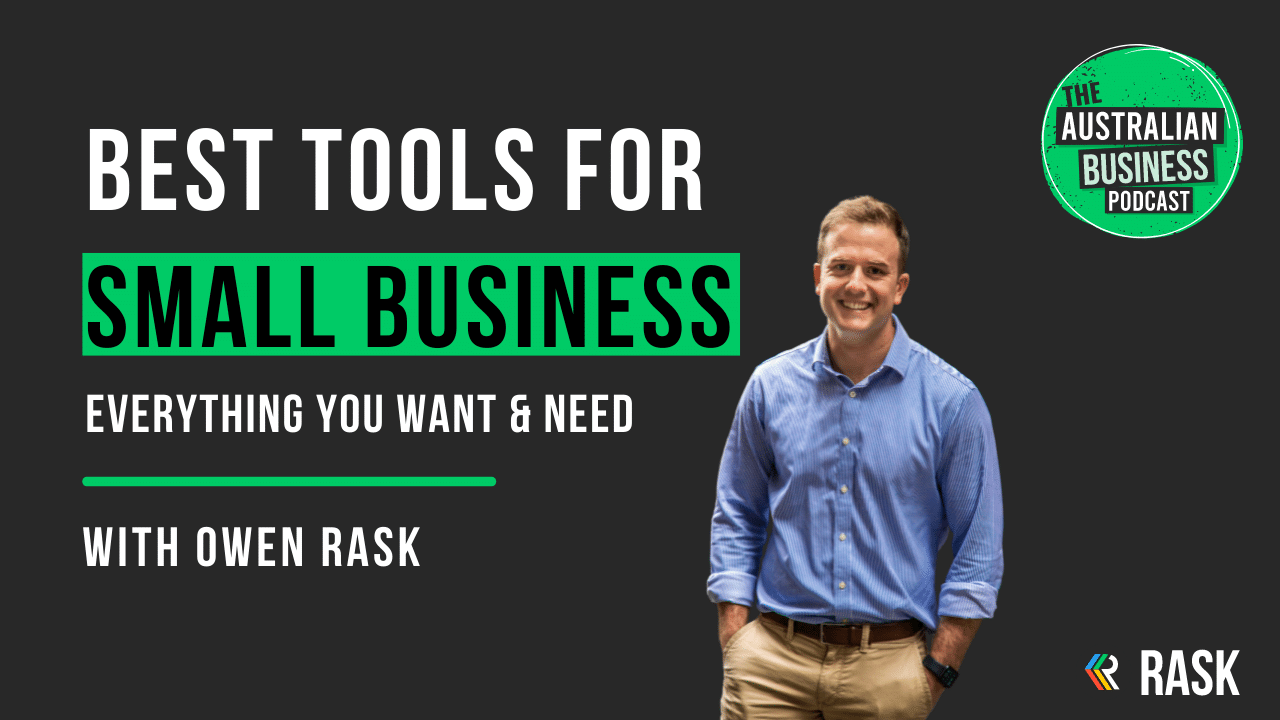 My Top Tools and Apps for Small Business Owners (Save Big!) [10/12]
Australian business podcast Episode #10 is now live on the Rask Network: my best software, apps and tools for small business owners.
In this episode, I – Owen Rask, Founder of The Rask Group – dive into my favorite tools for small business owners.
1. Design – Canvas – Link 🎨
You should pay a designer on Fiverr or Freelancer; a friend or family member (best option); or a design student from the local university, to make you a logo and a "style guide". A style guide is a rulebook for designing and marketing your business – it tells you what fonts to be used for titles and text, and Color pallet and includes your logos (in transparent, dark and light, square, rectangle).
Once you have your branding assets and your style guide, the next part is very simple: use Canva!
If you use any type of social media, email, or web marketing, Canva save you a lot of time (no photoshop needed!) and effort. It's Aussie too, which is great.
2. Xero – accounting, HR, Super & Tax 🧮
You can use Intuit or MYOB (your accountant might have an idea of ​​which is their favorite), but the big winner by user count (and part-time Xero enthusiasts like me) is Xero. It was a Kiwi company that dominated the New Zealand market, then Australia and (soon) the UK. Why? Because accounting software is great. It will take care of all or 80% of your:
Accounting needs – make your accountant's life easier and save you money
Manage employee payroll
Manage your super
File your financials directly to the ATO
Read your bank accounts and match payments (eg you can "categorize" anything from BP or Shell as "fuel costs")
Integration with HR apps and lots of other tools
You can take a free trial at Xero going here.
3. WordPress – More Advanced Website Builds 👩‍💻
If you're building a fairly standard, secure, widely accepted website, consider WordPress – despite all its criticism, it still powers about 1/3 of the internet. In the past, WordPress was primarily a blogging website. But more recently WordPress has become extremely extensible thanks to a global library of WordPress plugins (among our favorites are ElementaryWP Fusion and paid Pro subscriptions).
Steps to get a WordPress website:
Get your web domain (e.g. with Crazy Domains)
'Point' your domain to a host (e.g. Flywheel or WP Engine)
Connect through your host
Install Elementor plugin and learn how to use Elementor
Enjoy!
If you're not looking for a flash website, consider these two simpler options:
Shopify to sell things online (note: you can do this with WordPress with the free Woocommerce plugin)
Wix.com (for super basic builds)
I always prefer for business (beyond a single trader) to have a website, but if you don't have one, you can make do with great tools on platforms like Instagram or third-party "sites" like Medium.com. Remember that eventually your business should consider a website.
It's simple, but if you store data such as documents, videos, audio files or whatever, Google Workspace is my choice.
You can create a free Google Drive account when you register a Gmail account. If you create a Google administrator account (note: you may want to set up your email first), then you can share disk space, calendars, etc. You can "point" your domain to Google to create @YOUR-DOMAIN email addresses.
5. Payment terminals – Smartpay or Square 🧾
Square – Square is an "out-of-the-box" service that allows all types of businesses to create a point-of-sale service and accept payments. All trendy cafes use Square. You can purchase a Square terminal from Officeworks or join online. There are certain limitations to using Square, and it costs a lot. They will ask you to pay for the hardware (e.g. at Officeworks), but also pay hefty fees for each transaction. That's why some companies might do with…
Smart payment – this small Kiwi company does something called "smartcharge", which is when the cost of accepting card payments (like Visa or Mastercard, which can reach 50c or 0.3%) is "passed on" on the card holder. For example, I buy a coffee from your cafe and you are charged, say, 50 cents with Square. With Smartpay it's free for you as the cost is passed on to the cardholder. If you make a certain volume of transactions per month, they will give you the terminal for free. Click here to find out more.
This episode of The Australian Business Podcast aligns perfectly with Rask's Lesson 10 free business course: my best applications and tools.
Please Note: If you are confused about business "structures", such as corporations, trusts, "sole proprietorships", etc. which were covered in Episode 7 of The Australian Business Podcast – and that's available now in our free business course.
Do you like the Australian business podcast? Let me know by leaving a review on Apple or Spotify.
If you want to help me with the course, the best thing to do right now is to subscribe and review this podcast in Apple Where Spotify. Please use the "ask a question" menu link on Rask websites, or leave your questions in Apple Reviews.